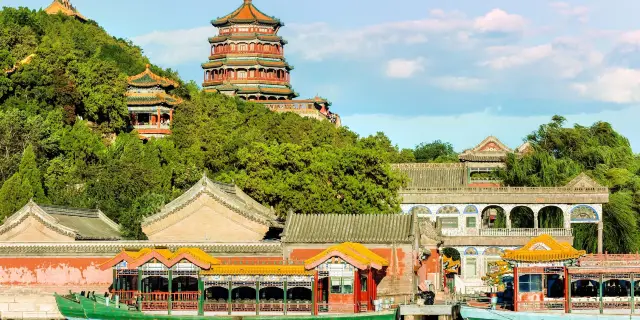 Beijing is a mix between the sublime and supercharged. With an immense history, culture, architectural diversity and population, it never fails to surprise.
As the capital of the China it is home to modern skyscrapers of the present and the beautiful traditions and the ancient temples of china's imperial past.
Best Ways into Beijing Center
In general public transport including the metro, buses, rail and taxis are good, convenient and reliable. It's a very good idea to have your destination or hotel written in Chinese or the city map stored or as an app on your mobile, to make your trips easier.
Airport express train: This is one of your best options from the airport, at ¥25 one way. Its 26km from the center and about 20-30 minutes, leaving from T2 and T3.
Taxi: it has an official queue on the ground level of the Beijing capital international airport. It should cost ¥70-120 to the center.
The Famous Sights in Beijing
Beijing is full of some of the most famous sights, steeped in ancient history and with incredible energy as a modern day powerhouse of trade and tourism, you are sure to uncover the experience of a lifetime. Here are some of the classic sights you should visit:
Tiananmen Square is the great place to start, right in the center of the city it is the world's largest public square and a compulsory sight for most visitors. The Square is surrounded by grand buildings including the Great Hall of the People, the Museum of Chinese History, the Museum of the Chinese Revolution, the Qian men Gate and the Forbidden City. Its also home to the Chairmen Mao Memorial Hall and the Monument to the People's Martyrs.
The Forbidden City in Beijing is China's best preserved collection of ancient buildings. It houses the Imperial Palace and was home to the Imperial Court during the Ming and Qing Dynasties. The Forbidden city was relatively untouched during the Cultural revolution, and was also off limits for 500 years. As the largest palace complex in the world, the ringed by a 52m-wide moat, you step into a true dimension of Chinese history and cultural heritage.
Temple of Heaven was build in 1420 for ceremonies performed by the emperor of the time, known as the Son of Heaven. It is the symbol of Beijing, surrounded by a unique 267-hectare park with the tranquility of Confucian design. This Temple of Heaven park is a unique oasis of calm you must visit, right in the middle of one of China's busiest urban landscapes.
Beijing's National Stadium is knows as the "Bird's Nest" and is an architectural sight from 2008 summer Olympics. It also transforms to a winter theme park for the Bird's Nest Ice and Snow festival from December to February.